Frequently Asked Questions & Common Dental Problems:
---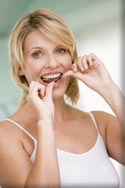 No Time for Dental Appointments?
Today's busy lifestyles make it tough to make time for dental appointments. Here are a few tips to maximize your time and keep you smile healthy:
Download and print patient registration forms and complete them prior to arriving to speed administrative processing. Be sure to give us your email address so we can email your appointment reminders and other important information.
If you have restorative needs, ask about scheduling a longer appointment to accomplish more in a single visit.
Develop a strong Home Care program - ask us how to structure your personal daily dental care routine. This will help prevent gum disease and decay - avoiding these will help minimize the number of trips you have to make to our office.
Don't put off necessary treatment - postponing procedures almost always makes the problem worse. If you notice a "twinge" of sensation in a tooth, best to let us check it out and prevent a potential problem before it becomes an unexpected dental emergency that disrupts your schedule.
See your physician - the "body and mouth" health relationship has been proven to be a significant connection. If you have heart disease or diabetes, or take medications that cause a common side effect called "xerostomia" or "dry mouth", it is critical that you follow up with your physician regularly to monitor your condition and evaluate the effects of your medication.

It is also very important to see us on schedule for routine checkups and cleanings to help prevent dental conditions that arise from medication side effects, such as dental decay and gum disease. Early detection saves time and money.
Have questions?

Contact Us today and let us help you find a schedule-friendly way to keep your smile healthy!
Leanne McDonald, DMD, MAGD · 325 East Pushmataha Street · Butler, Alabama 36904 · Ph. 205.459.5535
Leanne McDonald, DMD, MAGD is a General Dentist located in Butler, Alabama. We proudly serve patients in the west Alabama
and east Mississippi area, including Choctaw and surrounding counties, Tuscaloosa and Meridian.