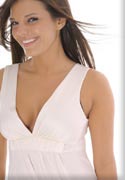 What's Hot in Smile Makeovers?
Studies have confirmed that having confidence in your own smile can make a big difference in how you interact with others both socially and professionally. We encourage you to bring in photos of smiles you like and let us offer ideas on how to create the look you want. A few "hot" topics in cosmetic dentistry:

Teeth Whitening - "Did you lose weight?" "Did you get a tan?" Our patients often tell us humorous stories about the comments they receive after teeth whitening. Our office features ZOOM!® in-office whitening, which achieves results in a single appointment. We also offer a take-home tray system, which can be used daily to lighten teeth gradually. Read more about ZOOM! Whitening

Dental Implants - "My Mom is smiling again", "I can eat crunchy foods!" - Patients that have worn dentures for a long time have discovered the advantages of dental implants - these tiny metal cylinders are used to anchor dentures for a secure, solid bite - what a difference! Implants are also used to replace single missing teeth rather than placing a bridge. Read more about Dental Implants

All-Porcelain Crowns - Many patients that have aged crown and bridge work are freshening up their look with all-porcelain crowns. No more grayish lines at the gum line - porcelain is the most natural-looking tooth replacement material available. Shades can be matched to whitened natural teeth for a synchronous (and glamorous!) new smile. Read more about Porcelain Crowns

Prepless veneers - Patients that have permanently stained teeth that (a common side effect of some medications taken during childhood) are often unable to whiten their teeth. Prepless Veneers are thin, porcelain shells that are bonded to teeth without the need for drilling. We protect the function of your bite while creating the "style" that you want! Read more about Prepless Veneers

Contact Us to schedule a personal consultation and share your goals for your dream smile today!